DLSU confers Doctor of Business Administration honoris causa upon PHINMA's del Rosario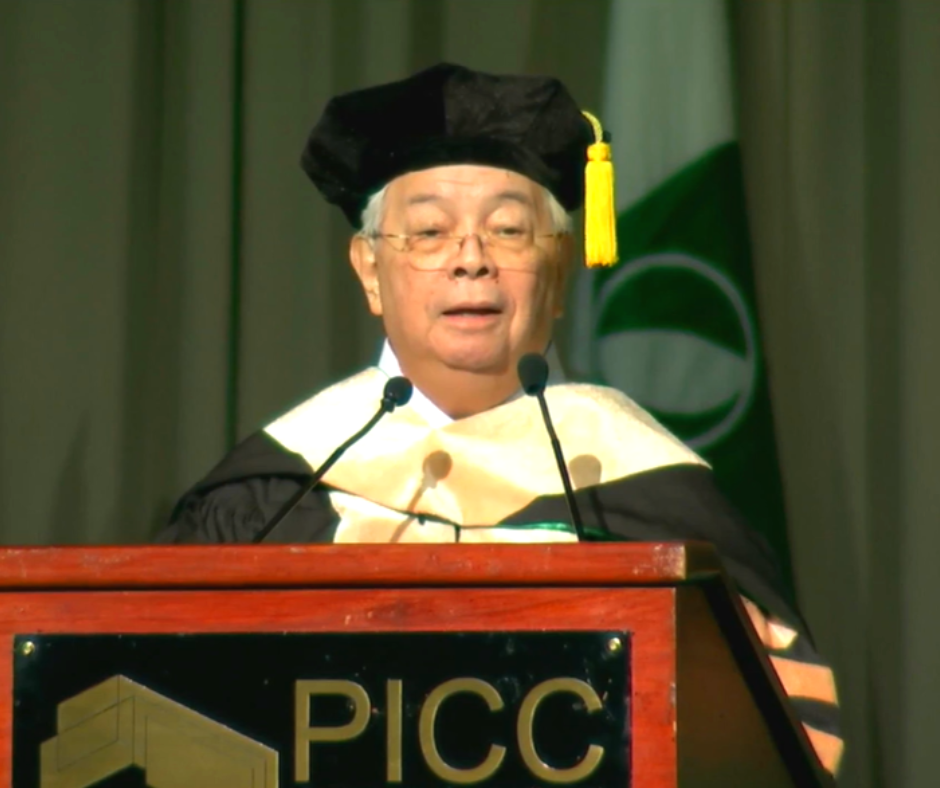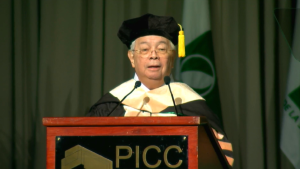 PHINMA Chairman and CEO Ramon R. del Rosario, Jr. was conferred an honorary degree of Doctor in Business Administration by the De La Salle University on Saturday, December 10, 2022.
According to the citation text read during the university commencement exercises, the degree was given "in recognition of his invaluable contribution to nation building, as inspired by the legacy of Ramon V. del Rosario, Sr. and the Making Lives Better mission of PHINMA, and his personal advocacy of upholding business as a force for social good, which have all made a significant difference in the country's broader public and private sectors."
In his acceptance speech, our chairman drew from the experience of PHINMA — from the foundation built by his father, to the company's early successes, to the pains during the Asian Financial Crisis, and the continuing commitment to provide access to the essentials of a dignified life through our various business units.
"This in sum is what PHINMA now strives to do: to live the legacy of our founding father, RVR, by helping build a stronger and more progressive nation, by making lives better, by doing good while doing well. And this dear graduates is just one example of what can be accomplished, as when a young Lasallian decided 66 years ago to pursue his dreams," he said.
Del Rosario, a Lasallian since kindergarten, thanked his alma mater for the honor and told the graduating batch to live their faith fully, building it on a foundation of integrity; to not be bystanders; to be a force for good; to do good while doing well; and to make many lives better.
Read his speech in full below:
Chairman Nestor Tan of the board of trustees, DLSU president Brother Bernard Oca, my other fellow DLS Brothers, Deans, faculty members, the 2022 graduates of DLSU, family and friends, ladies and gentlemen:
I believe that among the highest honors a person can receive are those bestowed by his own alma mater. For today's great honor I am truly humbled and I am also overflowing with pride and gratitude. But before anything else let me make a quick confession—my education journey at De la Salle was anything but smooth and pleasant at the start. Not having gone to any school prior to De La Salle, I hated the idea of going to school and I disliked everything about LaSalle. I cried and yelled and made a major fuss every morning. And this went on for two full weeks. After two weeks I realized that even after pretending to be sick and vomiting at will, my best efforts at avoiding school were not working and were making my parents very upset!  So one fine morning I decided to reconsider, and concluded that perhaps LaSalle deserved a second look. Well, the rest, as they would say, is history. Not only did I stay for Kindergarten, I stayed at DLS on and on and on for my entire grade-school, high-school and college education, all of seventeen years.
This honor therefore has particular meaning as an affirmation that the terrified five -year -old kid who for all of two weeks in 1950 screamed and yelled and wouldn't let his driver leave him alone in the unfamiliar halls of De La Salle College, somehow survived, persisted and managed to make a little something of his life. And today he stands here to receive the highest honor his alma mater can bestow!
Thank you De La Salle and all those responsible for this award:  The DLSU board of trustees led by chairman Mr. Nestor Tan; the DLS Brothers particularly DLSU president Br. Bernie Oca and my dear friend and now Superior General Br. Armin Luistro who I somehow suspect must have whispered in some ears to suggest this award; the President's Council; the Provost Council led by Dr. Robert Roleda; and of course the Ramon V. del Rosario College of Business led by Dean Dr. Emilina Sarreal, and the other college administrators, and a very special word of thanks to Marife Torres, the very able EA of Br. Bernie. To all of you and all the others, including the Lasallian aides and ushers and usherettes and the technical support teams who have contributed much to this event, my heartiest gratitude goes to you all.
In truth, as outlined in the citation, De La Salle has been extremely generous in bestowing far more honors on me than I can possibly deserve.  But while these awards are deeply appreciated, what has been most precious to me and has had the greatest impact are not so much these honors and awards but my seventeen years of Lasallian education and the values and principles and life lessons these years have imbued in me, as well as the lifelong friendships that I forged that have played a very major role in whatever I have become. For all these, I profusely thank my beloved alma mater.
Now that this five-year old cry-baby has grown into a super senior citizen of 78 years, what is it about his Lasallian education that has meant the most to him?  What lessons would he now like to share especially with the De La Salle graduates of 2022?
The first is that we should take our Catholic education seriously and live our Faith fully, not just on Sundays or when people are watching or when cameras are present but every day of our lives.  At the core of this, I submit, should be integrity.  And by this I mean the integrity that induces us to live up to our core values and principles and adhere to them, no matter the cost. Integrity as the foundation that leads us to compensate our employees fairly, produce products that improve the lives of our customers, pay our taxes fully even when it is easier to cheat. Integrity as our guide to improve by what we do the lives of our employees and the communities we serve. Integrity that means standing on principle and taking a stand when called to do so. And finally, integrity and fully living our Faith as the essential ingredients to building a good name, a reputation of honor deserving of respect, that ultimately is the greatest legacy we can leave our beloved families.
The second follows from the first:  by virtue of the gift of our Lasallian education, we cannot be bystanders. When confronted by the immense problems facing Philippine society, do we shrug our shoulders and say that these are for our politicians to address, and that anyway we are too young to make a difference?   Yet we know that we are among the privileged few who have been gifted with the finest Catholic education our country can offer.  If we do not respond, who will?  And if not now, when? If you were not aware earlier, I have news for today's graduates:  yes, your Lasallian education hopefully will provide you a path to good productive and comfortable lives, but this gift comes with serious strings attached: You must give back! And this you do by doing all you can to help build a more just, progressive and equitable society that makes lives better for all, especially the underserved.
But how can I realistically do that, you may ask.  What difference can a young Lasallian graduate truly make?
Perhaps the story of a 1938 Commerce graduate of De La Salle College will help provide an answer.  His name was Ramon V. del Rosario, whom we affectionately refer to as RVR, and it is after him that DLSU College of Business is now named. I hope you will not only be inspired by his story, but those of you from the College of Business will also learn to be prouder that you are graduates of the college named after him.
It was some 66 years ago in 1956, barely 11 years after the end of the second world war, that RVR took the decisive step to organize PHINMA. Manila and most of the Philippines were very badly damaged in the War.  Our physical infrastructure and economy were totally destroyed and the task ahead for our young country, of rebuilding itself, was daunting. The Philippine economy at that time was dominated by foreign firms, primarily American, and RVR himself had done well in two of them, having risen to become the highest-ranking Filipino executive both at IBM Philippines and Philippine American Life Insurance Co.
RVR felt very deeply that the role of nation-building should lie primarily in Filipino hands. Thus Philippine Investment Management Consultants Inc. (PHINMA) was formed from the very beginning to play a role in nation-building, and to demonstrate that Filipino managers were every bit as competent and effective as foreign managers. With grand intentions and meager capital, RVR and his two main partners, a wealthy landed sugar baron named Ernesto Escaler, and an engineer-technocrat named Filemon Rodriguez, launched PHINMA. Their task would be to package and offer to manage for prospective investors projects to rebuild the Philippine industrial base. RVR did not have much capital, but he did have his team of professionals, a network of satisfied clients who could be potential investors, an abundance of self -confidence, and a strong determination to do his part in rebuilding his devastated nation, all built around his solid Lasallian education.
Initial success came early to PHINMA because, fortunately, the government was ready to do one of its earliest privatization offers, a cement plant in Bacnotan, La Union. This was exactly what RVR and his PHINMA team were looking for—an opportunity to build and rehabilitate basic industries that would fuel Philippine economic development, and they submitted a winning bid! The team succeeded in turning the company around and this success opened the doors to more opportunities in the cement industry and other basic industries badly needed by a resurgent economy.
And so it was that for its first forty years, PHINMA concentrated on helping build our country's physical infrastructure, basic industries particularly cement where, at its peak, PHINMA companies produced and sold 50% of all the cement needed in the Philippines. And with its commitment to nation-building, PHINMA mobilized investments for other basic industries like steel roofing, glass bottle manufacturing, pulp and paper, and most boldly, the first Philippine oil refining and marketing company, FILOIL. And PHINMA ventured as well into banking and finance and agriculture through large scale sugar and coconut plantations. These ventures had respectable results but it was always its cement business that was PHINMA's core strength.
When the Asian Financial Crisis hit the world's economies in 1998, the Philippines and PHINMA were not spared.  Almost overnight, the exuberant optimism brought about by the highly effective leadership of President Fidel Ramos turned into a nightmare of companies struggling to stay alive. PHINMA's painful response was to sell its crown jewel, its cement business, initially partially at 50%, then eventually our entire holdings. A corollary victim was AsianBank, a medium sized universal bank I had nurtured from infancy but also now needed to be sacrificed for our group's survival.
This would mark the start of an entirely new phase for PHINMA and having been freed from my banking responsibilities, I became for the first time a member of the senior PHINMA management team. And we now faced the fundamental task of defining PHINMA's future path, absent cement. I suggested to RVR and our team that if we wanted to remain true to our original mission of contributing to nation-building, we must now do what we could to strengthen our country's main competitive resource—our people.  Whereas until now we had focused on our country's physical infrastructure, now we must commit to developing our human infrastructure. And this meant finding a way to make good quality education broadly accessible especially to those who need it the most, the underserved in our society.
And so it was that PHINMA ventured into education where, I am pleased to report, we have experienced phenomenal growth. In 2004, we acquired our first school, Araullo University in Cabanatuan.  Some 18 years later, through the hard work and dedication of our entire team led by the very able Dr. Chito Salazar, PHINMA Education is now the largest education network in the country with 9 tertiary institutions across the Philippines, with a total current enrollment of over 124,000 students! We have produced 57,372 graduates, 27,061 of whom have passed their professional board exams, with 130 as board topnotchers. Pre-pandemic, our students had an over 80% passing rate across all board exams and as well an 80% hiring rate within one year of graduation.  These today remain above 70% in spite of the pandemic.  Our students come from humble backgrounds and we do our best to give them opportunities to dream of a better future.  We charge an average tuition of only P15,000 per semester which can be further reduced by scholarships we make available to 6 out of 10 of our students. And we hope to replicate this record elsewhere in Southeast Asia where it is needed, starting in Indonesia where we now have one school and eventually hopefully in Vietnam.
The real story though is not in our growth but in the people we are serving.  We offer good quality education that leads to jobs for those who need it the most:  the children of poor families, of manual laborers and farmers and tricycle drivers, kids who come as freshmen applicants who are woefully unprepared for college with grade 4 competencies in reading, writing, and math. To turn these kids away would be to condemn them to lives of perpetual poverty.  With tremendous determination and a highly dedicated faculty, we take them into our schools and work with them for four or five years, and turn many of them into teachers, nurses, engineers, accountants, doctors and policemen. That is the magic of education–that it gives hope and uplifts lives.
And this in sum is what PHINMA now strives to do:  to live the legacy of our founding father, RVR, by helping build a stronger and more progressive nation, by making lives better, by doing good while doing well. And this dear graduates is just one example of what can be accomplished, as when a young Lasallian decided 66 years ago to pursue his dreams.
And so I close by once again thanking all who have conspired to confer this honor on me and by briefly recognizing those who have given me the inspiration and support to do what I do throughout my years:  my dear wife Marivic and my daughters and their families; my siblings led by my dear sister Pinky; my PHINMA family led and represented here by my mentors, Brother Oscar Hilado and Doc Mag Albarracin with special thanks to Peter Perfecto and our public affairs team; and my closest friends and classmates represented by my fellow rabid Lasallians, Amb. Joey Cuisia and Dr. Norman San Agustin. My heartfelt thanks to you all!
Finally, allow me to reiterate that I am particularly gratified that the honor you confer on me today honors as well my father Ramon V. del Rosario. For the current work we are doing truly pursues the mission he set out for PHINMA 66 years ago:  to be active participants in building the Philippines into the great nation it deserves to be.  I invite you, the Lasallian graduates of 2022 to join us in this mission built around the conviction that we Filipinos are a great people who are fully capable of making ours a great nation:
– Live your faith fully, built on a foundation of Integrity.
– Do not be bystanders.
– Be a Force for Good.
– Do good while doing well.
– And go and make many, many lives better!
Maraming salamat at magandang hapon sa inyong lahat.
Animo La Salle.
St. John Baptist de la Salle, pray for us.
And Live Jesus in our hearts. Forever.