RVR Award for Nation Building 2022 honors world-class Filipino entrepreneur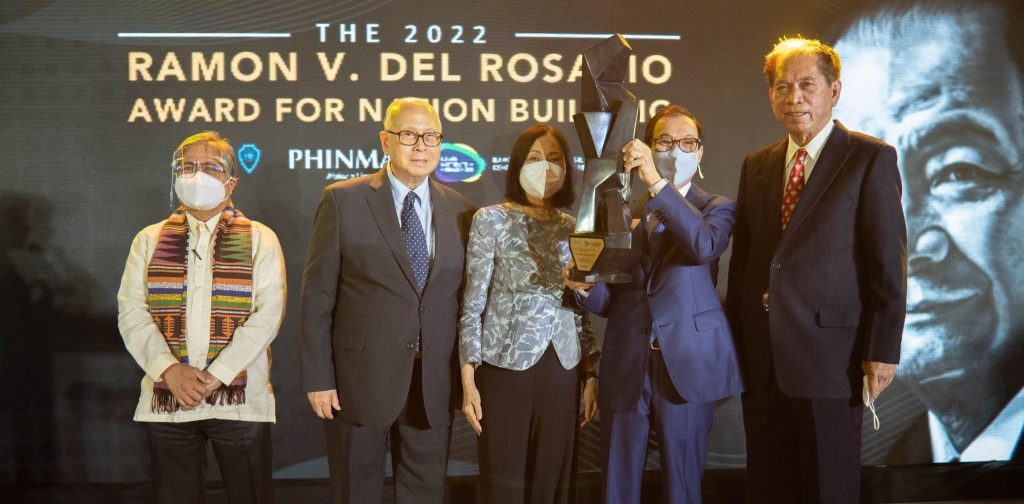 Jollibee Group Chairman and Founder Dr. Tony Tan Caktiong has been named the 2022 Ramon V. del Rosario Awardee for Nation Building during the awarding ceremony held last July 25 at the Manila Polo Club.
Junior Chamber International ("JCI") Manila, in cooperation with Asian Institute of Management ("AIM") Ramon V. del Rosario, Sr. Center for Corporate Responsibility and PHINMA, held the 2022 Ramon V. Del Rosario Award for Nation Building awarding ceremony to recognize Dr. Tony Tan Caktiong as its latest recipient of the prestigious award. The event was attended by distinguished business personalities, young entrepreneurs, representatives from different JCI Chapters, the del Rosario family, as well as past RVR Awardees. It was also broadcasted live through the official Facebook pages of JCI Manila and PHINMA.
The RVR Award for Nation Building ("RVR Awards") honors notable individuals worthy of emulation and who have demonstrated outstanding traits such as Entrepreneurial Spirit, Corporate Citizenship and Social Responsibility, and National or Global Impact. Due to the COVID-19 pandemic, it has been two years since an awarding ceremony for the RVR Awards has been held. This brings particular significance to this year's iteration of the award because it recognizes the efforts of Dr. Tony Tan Caktiong and the Jollibee Group in the face of the challenges brought about by the pandemic.
Launched in September 2009, the prestigious award was named after Ramon V. del Rosario, Sr. ("RVR"), who was the founding president of the Junior Chamber International Manila and was also acknowledged as the "Father of Philippine Modern Industry.
"In honoring outstanding nation builders, we are helping build a business constituency for good. We do not see this as just another recognition ceremony but rather, a recommitment event as well as a continuing clarion call to make business a genuine force for good. I am confident that tonight's honoree will join his fellow awardees in multiplying this force," said PHINMA Chairman and CEO Ramon R. del Rosario, Jr.
Source of national pride
 Dr. Tan Caktiong was chosen as this year's awardee for his dedication to quality, innovation, and excellence, which propelled the Jollibee Group from its humble beginnings to being one of the largest food companies in the world with 18 brands across 34 countries—putting the Philippines on the global map and being a source of national pride.
"When we set our vision of being one of the Top 5 restaurant companies in the world, we never intended to become big for the sake of becoming big. We set this imbued with a sense of purpose—including that it be something we, our people, and our country can all be proud of," Dr. Tan Caktiong said in his acceptance speech.
"To be recognized today based on the legacy and honor of the late Ambassador Ramon V. Del Rosario is both humbling and inspiring. Having built and contributed as much as he did from the ground up was certainly not easy, but he showed many what was possible, which also reminds me of something I have always believed in—that the only real limitations are those that we place on ourselves," he added.
Dr. Tan Caktiong also addressed students and budding entrepreneurs: "For all the aspiring entrepreneurs, I highly encourage you to chase your dreams. And when you achieve your dreams, to dream even bigger. As I earlier said, the only limitations are those we place on ourselves. Believe in yourselves."
Socially responsible business
"I thought to myself that one of the greatest forms of charity is through building a successful and growing business—as this, beyond creating jobs—also in many ways has a multiplier effect on improving lives of countless people and families: the families of our people, suppliers, franchisees, partners, and many more," he added.
Yet the Jollibee Group has extended beyond providing livelihood to its people and business partners. Under Dr. Tan Caktiong's leadership, the company's social development arm the Jollibee Group Foundation (JGF) works to improve food access in the country through programs on agro-entrepreneurship for small-scale farmers, feeding programs for underprivileged school children, and food distribution during disasters.
"Our Farmer Entrepreneurship Program seeks to improve the capacity of small-scale farmers in the country. We help them to organize themselves and consolidate their produce for greater market competitiveness by selling directly to institutional markets such as JFC. We believe that their improved capacity for greater productivity and profit will redound to the continued growth of the nation's agricultural sector," Dr. Tan Caktiong said.
During the pandemic, JGF distributed 8.4 million meals for pandemic and disaster-affected communities across 358 cities and municipalities across 60 provinces from 2020 to June 2022. The company also vaccinated its employees against COVID-19 for free and offered several Jollibee stores in different regions as vaccination sites to help the country speed up its vaccination efforts.
"This award you have given me is an affirmation that we are all capable of doing great things for our country and our people. It will continue to inspire me and all of us in Jollibee Foods Corporation," he added.
Dr. Tan Caktiong joins the ranks of other RVR Awardees such as Jaime Augusto Zobel de Ayala, Manuel Pangilinan, Henry Sy, Sr., Oscar Lopez, Vicente Paterno, Washington SyCip, George Ty, Ambassador Jesus Tambunting, Senen Bacani, Diosdado Banatao, and Jaime Aristotle Alip.
After Dr. Tan Caktiong formally received his award, JCI Manila President Richard Lim delivered the closing remarks of the program. In his speech, Lim thanked the awardee for inspiring young people, particularly young entrepreneurs, to believe that we have it in ourselves to rebuild the nation and the future of the world even with the aftermath of the COVID-19 pandemic.
The RVR Awards acknowledges the support of the following companies: Alibaba Cloud, Naomi Jewelry, Coca-Cola, Starport, PHINMA Group, Union Galvasteel Corporation, Philcement Corporation, PHINMA Solar, PHINMA Education, PHINMA Properties, PHINMA Hospitality, and PHINMA Foundation.
Tags: 2022, Ramon V. del Rosario Award for Nation Building, RVR Awards