During the last two years of the COVID-19 pandemic, the PHINMA Group has become even more determined to pursue its mission of making lives better. The company has successfully achieved major milestones operating from a 3-tier bottom line perspective benefitting People,
Planet, and Profit. We have expanded the scale and depth of our investments so that each measured step makes a huge difference to people with the most urgent needs.

Despite the prolonged impact of the pandemic, PHINMA successfully achieved major milestones, including the acquisition of its tenth tertiary education institution, its first bond issuance in over 25 years, and vaccine rollout for employees and their dependents. Based on the proven resiliency and innovative strategies of its business units, we believe PHINMA Corporation has established a strong base for sustained growth.
2021 Business Performance Highlights
₱16.04B
Consolidated Revenues
₱1.87B
Consolidated Net Income
259%
Year-on-year increase in net income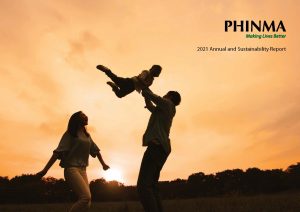 2021 Annual and Sustainability Report
INTERESTED TO LEARN MORE?